A Natural History of Human Thinking
May 17, 2014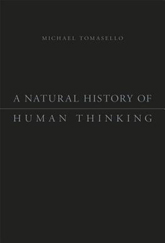 Tool-making or culture, language or religious belief: ever since Darwin, thinkers have struggled to identify what fundamentally differentiates human beings from other animals. In this much-anticipated book, Michael Tomasello weaves his twenty years of comparative studies of humans and great apes into a compelling argument that cooperative social interaction is the key to our cognitive uniqueness. Once our ancestors learned to put their heads together with others to pursue shared goals, humankind was on an evolutionary path all its own. A Natural History of Human Thinking is the most detailed scientific analysis to date of the connection between human sociality and cognition.
Join Metanexus Today
Metanexus fosters a growing international network of individuals and groups exploring the dynamic interface between cosmos, nature and culture. Membership is open to all. Join Now!