A Window on Eternity: A Biologist's Walk Through Gorongosa National Park
May 17, 2014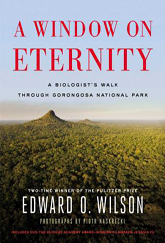 A Window on Eternity is a stunning book of splendid prose and gorgeous photography about one of the biologically richest places in Africa and perhaps in the world. Gorongosa National Park in Mozambique was nearly destroyed in a brutal civil war, then was reborn and is now evolving back to its original state. Edward O. Wilson's personal, luminous description of the wonders of Gorongosa is beautifully complemented by Piotr Naskrecki's extraordinary photographs of the park's exquisite natural beauty. As he examines the near destruction and rebirth of Gorongosa, Wilson analyzes the balance of nature, which, he observes, teeters on a razor's edge. Loss of even a single species can have serious ramifications throughout an ecosystem, and yet we are carelessly destroying complex biodiverse ecosystems with unknown consequences. The wildlands in which these ecosystems flourish gave birth to humanity, and it is this natural world, still evolving, that may outlast us and become our leg­acy, our window on eternity.
Join Metanexus Today
Metanexus fosters a growing international network of individuals and groups exploring the dynamic interface between cosmos, nature and culture. Membership is open to all. Join Now!