Indic Visions in an Age of Science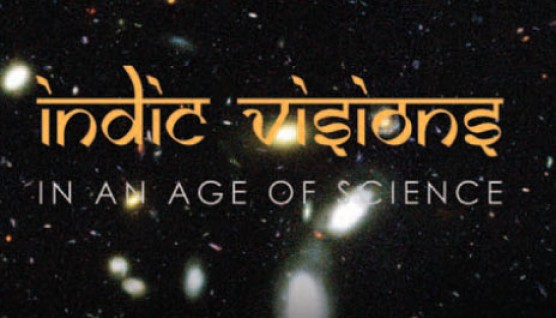 Buy online through Amazon:
Indic Visions in an Age of Science by Varadaraja V. Raman
(New York, NY: Metanexus, 2011).
or
Download the book for free as a PDF.
"Indic Visions is V. V. Raman's magnum opus. In ten succinct chapters, he traces the development of Indian religion and philosophy from its distant origins to its most recent evolutions in an age of science. Comprehensive, scholarly, and eminently readable, this work explores the great questions of humankind: the origins of life and the cosmos, the mind-body relation, the quest for knowledge and liberation, and the nature of the Ultimate. The more I immersed myself in these pages, the more my respect grows for the unparalleled achievements of Indian civilization—past and present—and the incredible author who has brought this altogether in this outstanding volume."
—Philip Clayton, Claremont School of Theology
"Steeped in science and soaked in spirituality, V. V. Raman blends vast scholarship and deep insights into the rich heritage of India with the great promise of modern science. This book gives a general architecture for constructing a global culture. Timely, stimulating, scintillating . . . Indic Visions should interest both scholars and students of science and culture in the East and the West."
—Ramakrishna Rao, Indian Council of Philosophical Research, New Delhi
"In his usual lucid style, V. V. Raman presents a variety of Indic visions . . . A must-read book for students, scholars, and enthusiasts who are interested not just in Indian culture and philosophy, but who are willing to contribute to the current intercultural and interdisciplinary discussions."
—Sangeetha Menon, National Institute of Advanced Studies, Bangalore, India.
"A truly remarkable and much-needed book. Clear, concise, and highly informative."
—Loyal Rue, Luther College, Iowa
"Indic Visions is a superb synthesis. After reading it, one will be compelled to discard the uncritically repeated textbook narratives on Indian religion and science. The book will be invaluable to laypersons and scholars alike."
—Subhash Kak, Oklahoma State University
"V. V. Raman's Indic Vision offers a fascinating panoramic view of a vast terrain stretched across space and time . . . With its lucid literary style and easy flow of language, the book makes for an enjoyable yet profitable experience. It is highly recommended to both beginners and experts."
—C. V. Vishveshwara, Indian Institute of Astrophysics, Bangalore
"In approaching India today and its many contributions to our emerging global civilization, we need not be blind men and women or partial perceivers of a greater truth. We have in the person of V. V. Raman, a king who grasps the whole elephant. Raman is a gifted and gracious guide, who helps us understand the whole fabric and see the rich details of Indic civilization in this age of universal science. In so doing, he offers us also a way out of dangerous culture wars and clashing civilizations . . . And no matter where you were born, what languages you speak, what beliefs you profess, what disciplines you practice, India is your civilization too. It is time you got to know her better."
—William Grassie, Metanexus Institute
Varadaraja Venkata Raman is emeritus professor of physics and humanities at the Rochester Institute of Technology. Born to Tamil parents in Calcutta, Raman spoke Tamil, Bengali, Hindi, and English in his early years, studied Sanskrit and Latin in school, and learned several European languages later in life. After receiving his degrees in physics and mathematics from Calcutta University, he did doctoral work in theoretical physics at the University of Paris. He was associated with UNESCO during his career as an educator. Raman has authored papers on the historical and philosophical aspects of physics and science, as well as on India's cultural heritage.
His books include Scientific Perspectives, Glimpses of Ancient Science and Scientists (1984), Nuggets from the Gita (1997), Varieties in Science History (2000), and Truth and Tension in Science and Religion (2009). He is an associate editor of the Encyclopedia of Hinduism Project (2010), a recipient of the Raja Rao Award from Jawaharlal Nehru University, the IRAS (Institute for Religion in an Age of Science) Scholar's Award, and the Interfaith Services Award from the Center for Interfaith Studies and Dialogue. He is an elected member of ISSR (International Society for Science and Religion, Cambridge, United Kingdom) and a Metanexus Senior Fellow. He chaired the academic board of the Metanexus Institute (New York, NY) and is a regular contributor to its online magazine.
Buy online through Amazon:
Indic Visions in an Age of Science by Varadaraja V. Raman
(New York, NY: Metanexus, 2011).
or
Download the book for free as a PDF.
Contents……………………………………………………………………………………………………….. 9
Foreword by William Grassie………………………………………………………………………….. 11
Foreword by E. C. G. Sudarshan……………………………………………………………………… 15
Preamble……………………………………………………………………………………………………… 17
I. Deep Roots, Spreading Branches: History and Commentaries…………………… 21
II. Universal Science and the Subcontinent…………………………………………………. 47
III. Mythos: Origins and Ends…………………………………………………………………….. 74
IV. Mind: The Science of the Self……………………………………………………………….. 98
V. Knowing: Indic Postmodernism…………………………………………………………… 121
VI. Classical Philosophies in New Light…………………………………………………….. 137
VII. Classical Texts: Interpreting the Upanishads and the Gita Today………………. 161
VIII. Mythic Inklings of Future Science……………………………………………………….. 184
IX. Global Science and Modern India………………………………………………………… 200
X. Science in Context: Debates within Transnational Civilizations……………….. 221
Selected Bibliography………………………………………………………………………………….. 241
Index…………………………………………………………………………………………………………. 259