Resonance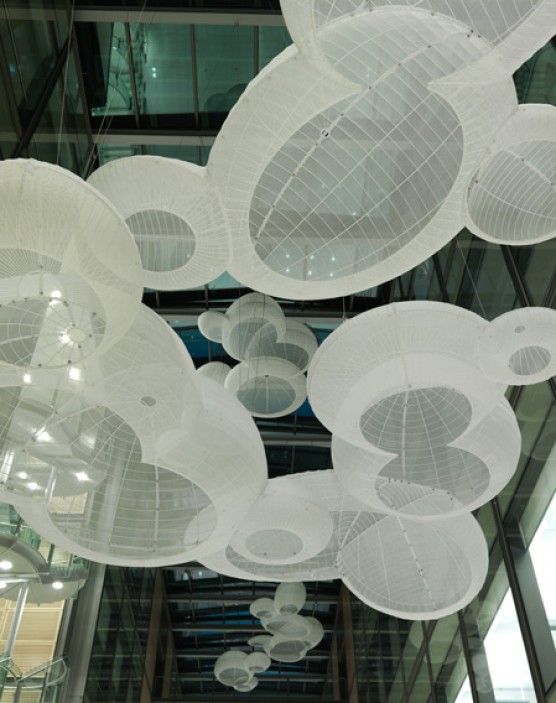 I am fascinated by the way in which architectural structures embrace, contain, shelter, frame, and even control the individuals who inhabit them. I explore this notion by building sculptures that both operate as scale models for imaginary places and converse with the particulars of existing architectural spaces. My initial study in microbiology and my interest in the history of architecture have resulted in works informed by both geometric design and biological morphologies, and operate in the territory where the built and the natural environment might meet.
I aim to build sculptures that appear to have been built with a precise blueprint, while at the same time contradict this notion with some demonstration of a dynamic system. Designs that suggest germination, budding, merging, hybridization, or absorption are central to my work. I also think of my sculptures as scale models for invented buildings that sometimes hover or drift in a vast space. Some resemble unfurling drapery caught in a frozen moment while others toggle between topography map and building in plan.
Most of my sculptures are built with skeletal steel frames and covered in semi-transparent green house shade-cloth to suggest membranes where inner layer is visible through outer shell. These porous skins also operate as a continuous plane where exterior protective shell wall folds in to become interior vessel lining wall. In this way I explore the play between interior and exterior space and the tensions between what is revealed and what is concealed.
[ngg_images source="galleries" container_ids="75″ exclusions="65,128,144,242,248″ display_type="photocrati-nextgen_pro_masonry" size="180″ padding="10″ display_type_view="default" ngg_triggers_display="always" captions_enabled="1″ captions_display_sharing="0″ captions_display_title="0″ captions_display_description="1″ captions_animation="slideup" order_by="sortorder" order_direction="ASC" returns="included" maximum_entity_count="500″]
RESONANCE, 2010
Resonance is a site-specific sculpture commissioned for The Frick Chemistry Lab at Princeton University. It was designed to converse with the particulars of the long and narrow sky-lit atrium space. The sculpture consists of six groupings of ovoid shaped forms suspended on stainless steel aircraft cable and attached to the structural steel beams of the building. Built with lightweight industrially powder-coated steel frames and covered in semi-transparent outdoor shade-cloth, the surface of each form allows light to both penetrate and reflect. Rather than create a singular moment within a given region of the building I chose to configure the forms to engage the space completely both horizontally and vertically—in plan and elevation.
The title Resonance might be read in one of two ways. Given that they are not identical units, but rather discrete structures with a kind of kinship, the individual sculptural forms are resonant with each other. As a group they resonate throughout the massive open space; a single form becoming multiplied, the visual effect intensified and prolonged.
The interconnected ovoid semi-transparent forms were in part inspired by models used to represent molecular structures.
Resonance was designed and built in collaboration with South African artist Siemon Allen. The project was coordinated in association with Mark G Anderson Consultants of Washington, DC and installed by the Chicago-based art rigging specialists Methods and Materials. For more views of this work, click here.
FLUENT TRACES, 2006
Fluent Traces is a large-scale permanent commissioned sculpture made of three powder-coated steel structures covered in greenhouse shadecloth and suspended by stainless steel aircraft cable.
At times for me, these structures operate like scale models for imaginary buildings, hovering, floating or drifting in a vast space. At other times I read the multi-level semi transparent forms as sections of the existing architecture—both the solid wall on one side and the windows on the other form grids. I image that for a moment fragments of the existing architecture have been shaved off or broken free to torque and drift. The undulating forms are built on a grid with levels that are parallel to the floor. As with most of my work, here my aim is to articulate a form that appears to have been built with a precise blueprint, while at the same time to contradict this with some demonstration of the structure as dynamic system.
When I visited the site, I was interested in the possibilities of working in a space that not only offered a twelve story open atrium space, but one with seemingly infinite vantage points. The site includes three bridges that connect the firm's offices that are housed in adjacent buildings and the three structures were sited to these open crossings that span the chasm like space. Conference rooms and offices at all levels face the atrium and in some one of the structures almost fills the visual field a window.
In the title the word fluent come from a notion of fluid. This could be a form of undulating wave-like movement, or in an even more specific reference to the international focus of the firm, fluency in a foreign language, which to me implies a kind of fluidity across translation. Traces are like visual images seen from the corner of the eye – transparent, weightless, like a mirage. Or like the traced drawings on drafting mylar where the multiple stages of the building design are simultaneously visible, the process revealed. For more views of this work, click here.
NEW GROWTH/STRATUM MODEL, 2009
New Growth: Stratum Model reflects a merging of the natural and the built environment. Designed to operate at once as landscape and architecture, the schematic of stacked planes seen from a bird's eye view toggles between topography map and building in plan. There is an illusion from this vantage point that the form has been compressed into a single plane. But viewed in elevation or perspective these horizontal levels decompress and expand to suggest accessible spaces.
As in previous work I am interested in the notion of how a scale model with an unspoken ratio might operate. That is, the model might represent at once a microscopic landscape made large to allow human scale spelunking and an imagined sprawling cityscape shrunken to miniature size.
The notion of growth refers both to the way that biological models have informed the design of the individual forms in the sculpture and the way in which the edges of these stacked planes create a kind of provisional boundary. It is a model for a built environment where edges converse with the particulars of a natural site – rivers, extreme changes in elevation, encroaching marshland. Urban growth can be developed from the top down with leveling, grid planning and other kinds of imposed schematics. But such growth also occurs from the inside out, directed in a manner more akin to cellular organization in response to environment.
New Growth: Stratum Model was created for Suyama Space in Seattle, Washington, an alternative space for experimental sculptural projects created by curator Beth Sellers with the support of architect George Suyama, and located in the architectural firm of Suyama Peterson Deguchi. For more views of this work, click here.
To learn more about Kendall Buster, visit www.kendallbuster.com.