Review of David Sloan Wilson's "Evolution for Everyone: How Darwin's theory can change the way we think about our lives"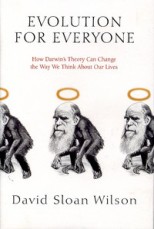 David Sloan Wilson, Evolution for Everyone: How Darwin's theory can change the way we think about our live, Delacorte Press, 2007, $24.00.
Everyone (who can read) has heard of evolution. Many even know that its origins may be traced to the writings of Charles Darwin. There is also the general impression that in a nutshell the theory of evolution says that humans descended from apes. Indeed, this crass description is what leads to confrontations between religion (for which there is something unique that separates humans from other creatures) and science (Darwin's theory which makes us just another fruit in an orchard full of fruit trees).
In recent years, there have been efforts, both by some traditional religionists and some of their scientific advocates, to discredit evolution as a valid view of biology or at least diminish its truth-content by calling it only a theory.
This book is meant to explain to the general reader what evolution is all about, to counter the movements against the scientific framework, to bridge the divide between scientific evolution and religious worldviews, and, to extend the significance of evolution from its restricted Darwinian sense which sees it only in the context of birds, beasts, and botany. The reader will gradually discover that there are lots more to evolution than fossils and finches, dodos and dinosaurs. Evolution has played a role in everything related to life: from ribosomes to religion. No matter where we direct our attention, the slow imprint of evolution may be seen, if one only looks (reflects on the matter) carefully.
Wilson begins by a brief survey of the reactions to Darwinian theory, and a sketch of scientific methodology. Then he summarizes the kernel of evolution in three simple words: variation (differences between members of a species), consequences (results of such differences), and heredity (the transmission of characteristics) from generation to generation. That's all there is to it. All that we know about life can be seen, understood, interpreted, and explained in terms of these simple and undeniable facts of observation.
He demolishes the anti-evolutionist claim that evolution is not yet a proven scientific truth. Unfortunately, he begins this important chapter with an out-of-context quote from George W. Bush, which neither adds to nor diminishes the thrust of this important and clarifying chapter of the book, which is to be of perennial value for decades to come, but diminished by a parochial reference to a president for whom the author has little respect.
Among the key concepts Wilson presents with great clarity is the idea that adaptation need not automatically imply that it is something good in the sense of being beneficial to individuals. Even good and bad traits can change under appropriate conditions. Another key scientific truth is that imperfection is an aspect of evolution. Indeed, there can be factors within the system that may be hurdles to evolution. Elsewhere, he explains that evolution does not necessarily mean something positive for the species. It includes everything, not unlike the theological view of God who has created both good and evil, beauty and ugliness. The book abounds in with fascinating examples. For example, it tells the story of some members of a rhesus monkey colony that seemed deranged from their very birth. The discovery of their genetic source is a fascinating detective story.
Wilson analyzes the notions of ultimate and proximate explanations in evolution, and shows with numerous examples how both need to work hand in hand. He reminds us that in contrast to natural selection which is slow, the evolution of human intelligence is fast, and that the former follows the latter. Adaptation may not always match the environment. These facts can have serious consequences.
At one point Wilson says that "religion, government, and science all face the same problem: individuals and groups are driven to benefit themselves at the expense of other individuals and groups." Not everyone may agree with this assessment in the context of his or her own personal acts and affiliations, but apparently it is an important operating principle as far as biology is concerned.
In a brief chapter on function, Wilson grants that there can't be function without design and purpose – as religionists would claim on the logic of if-there-is-a-watch-then-there-must- be-a-watch-maker – but he goes on to say that it is possible to explain this situation in purely naturalistic terms. In fact, that this was Darwin's great achievement. In this context, he voices disagreement with Steven J. Gould who felt that some evolutionists put too much emphasis on adaptation.
Then again, hereditary variation is an enormously complex process which makes the scientific study of evolution both challenging and interesting. Natural selection is also a very slow process, and this often leads to difficult and species destructive complications, because it may sometimes not be able to cope with the relatively faster changes in the environment. Wilson reminds us that we are alive because the genes in our bodies have survived in average terms among all the genes, which doesn't mean they will necessarily be good to our particular bodies.
The thrust of the book is to develop in us not just an awareness but an internalization of the idea that we, like all other species, are the products of natural processes, and not of a supernatural act or will. Wilson devotes an entire chapter expound this idea, stressing that it demands a certain degree of humility about our own selves. He does this by drawing an interesting analogy with the prodigal son who, after squandering all his patrimony, eventually recognized his own limitations. The religiously inclined reader may see how humility can result from a scientific understanding of the world as well as from a religious perspective of humans vis-à-vis the Divine.
An important aspect of evolutionary theory, which has few parallels elsewhere in science, is that once a person grasps its essence one can apply it to phenomena along lines on which even experts in other fields may not have thought. In other words, the essential framework of evolution is so powerful that it finds relevance in practically in every facet of life, whether it is morning sickness of pregnant women or allergies. Not all these have been fully explored. But even non-initiates can uncover new things here. In other words, sound understanding of evolution can enable you even to teach experts, something impossible in other fields, like say high energy physics, polymer chemistry, or higher mathematics. And he illustrates this point with some fascinating examples. On the other hand, some readers may feel that in their commitment to bring everything under the umbrella of evolution, some have gone a little too far, such as trying to explain such phenomena as murder patterns in Detroit city in evolutionary terms.
Recognizing or assuming that anti-evolutionists are provoked by the fear that evolution implies genetic determinism with all its moral consequences, Wilson devotes a whole chapter to dispel this misconception. He explains that by definition evolution implies capacity for change, and this is incompatible with determinism.
In another chapter he explains that the variety of individual personalities that one observes in people is equally true of animals, and that individual distinctions are in fact evolutionary strategies for survival and reproduction.
We also learn from this book that the role of evolution is discernible even in our sense of beauty which is not always based on physical appearance, at least when it comes to admiring human beings. Wilson takes up the question of good and evil which he defines, biologically speaking, as whatever enables or disables groups to function well as units. In this context he makes the startling statement (startling because it is so rare from an atheist scientist these days) that religions are right in at least one respect: when they declare that the conflict between good and evil is of cosmic significance. He reveals how with this broader definition of good and evil may be found in the animal kingdom as well, including microbes.
Another basic idea is that for a scientific understanding of life and organisms, we need to look upon them as collections or groups, and not as individuals. (The communists have been saying this for societies at large.) "It even extends into the realm of chemical reactions," he says. One is reminded here of terms like reverence and sacredness that Religious Naturalists have freely adopted from traditional religions to fit into their framework, because no matter how you define them, they are (still) key notions in human cultures.
One gains another important insight from a careful study of insects. In the course of evolution there have been competition between groups or within groups. Whenever the former predominates, individual organisms result. In other instances we have groups (as in ants and bees) where there is some sort of a collective and cooperative behavior, bordering on a collective mind. Insects are groups as organisms whereas we are examples of groups of organisms.
Next Wilson reveals to us that the so-called ideal egalitarian society (loudly proclaimed by the French Revolution) is more ancient than the first Homo sapiens – even apes have it. Careful and systematic scientific studies reveal that civilized humans have an enforced kind, rather the natural or built-in type, of egalitarianism.
We learn many more things from this book, most of it are fruits of scientific research of the past two and odd decades. A whole chapter is devoted to the role of the human eye in making ours a cooperating species. Here we learn that ours are the only eyes that not only see the world outside but also reveal the world inside. The book discusses the role of laughter in human evolution; speaks about creative arts and music and dance as essential ingredients in the evolutionary growth of our species; informs us that even our assumed uniqueness as a symbolic creature is only an extension of features that some animals and birds possess. It also shows the value, importance, and relevance of collective thinking in the evolution of culture and civilization. We are, ultimately, interconnected beings. Another important understanding we get from the book is that whereas the insect world achieved ecological dominance by subdividing into thousands of species, Homo sapiens accomplished this by subdividing into countless separate cultures.
In an earlier book (Darwin's Cathedral) Wilson applied the insight of one mind in many bodies – so obvious among bees – to the study of religions. He summarizes his findings here. Essentially, as he puts it, religions are "part of a social physiology' that coordinates action and solves the all-important problem of cheating from within." He discusses various possible theories for the origin of religion, and asserts finally that religion is just another instance of evolutionary principles at play in human societies. If Wilson is one of the thinkers who try to explain religion in evolutionary terms, perhaps his great insight lies in his application of the proximate and ultimate factors directing evolution to the vertical and horizontal dimensions of religion. He argues that while philosophers and scientists may wonder about the irrationality or superstitions in religious beliefs, evolution invariably becomes relevant in so far as actions (and beliefs) are favorable to the continuance of species or subgroups of the species. It would seem that Evolution knew the value of pragmatism long before Charles Sanders Peirce, William James, or John Dewey. One may extend this principle to other collective human concerns and behavior, whether the feminist movement, patriotism, or even some scientific theories. Wilson goes on to examine other systems of collective belief and behavior which can be just as dangerous as some traditional religions are often depicted to be. In this context he offers a dozen or so "nuggets of homespun evolutionary wisdom" about Homo sapiens which he modestly describes as "the biggest and dumbest organism" on earth: the verdict of the scientific Day of Judgment.
With all that Wilson recognizes how limited our current knowledge is compared to what is yet to be known: humility worthy of a wise scientist-philosopher.
The book is replete with interesting anecdotes, some about his students, some about his wife, some about fellow scientists, and more. One of these refers to a trip to the Bahamas for a conference organized by Sir John Templeton and his meeting there with the eminent psychologist Mihaly Csikszentmihalyi from whom he learned the beeper method of random sampling for scientific research. He applied this technique for studying altruistic love in the evolutionary framework. His work in this matter confirmed his thesis that the behavioral diversity in humans is not unlike biological diversity: the long-range effect of evolution.
Towards the end of the book Wilson takes up questions relating to technology and values. He argues that a sound grasp of evolution, especially in relation to humans, can be enormously helpful, indeed is essential, for the healthy preservation and continuance of human life on the planet. He stresses the importance of ethical systems, but reminds us that when they are coupled with factual knowledge (science) they can become benign. In other words, informed morality is better and safer than an ignorant one.
The last two chapters are largely autobiographical, recounting in a fascinating way the routes by which Wilson arrived at his current state, and also giving us a glimpse of some of the current activities in the seminar room of his department.
On all accounts this is an extraordinarily well-written book. It teaches the uninitiated reader some basic evolutionary biology, although a brief introductory chapter on the nature of science, the goal of biology, the history of the evolutionary idea, the thesis of Darwin, the controversies it has engendered, etc. would have been helpful to thousands of readers who have no inkling of these matters. The book offers new insights on aspects of life – both biological and cultural – that must be eye opening to most readers. It shows how the key paradigm of evolution may be extended to countless aspects of human life and experience, from politics to religion. By doing this, it strips religion of its supernatural mantle, without diminishing its significance and value. Physicists have been trying for almost a century to formulate a unified theory, a Theory Of Everything. As one reads this book, one is inclined to conclude that Evolution is the TOE of biology. No matter what aspect of life, organism, species, or animal behavior one looks into, careful study will reveal evolution at work. The b ok is essentially an elaboration of this thesis. It is not so much Evolution For Everyone, as its title proclaims, as Evolution Everywhere.