An Artificial Natural History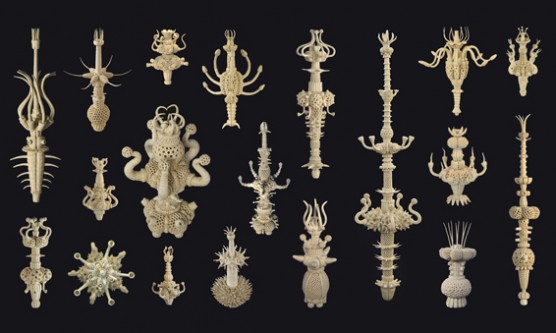 Artist's Statement
Extending the boundaries of the handmade to express abstract ideas, I confront the collision between art and science, directing energies into exploiting the properties of a primal material at the extremes of its capabilities. Abstracting biological concepts of form and function is a negotiation between the engineered and the organic from which aesthetic objects emerge as organizational devices or motifs for the disruption and reconciliation of sacred and secular notions.
Focusing on an intense process of making that is additive, never broken down or weakened by entropy, each structural increment represents an increase in the internal energy of the work to the point where order begins to radiate outward. The sculptures may seem at first glance self-contained, yet they are anything but; they are explicitly designed to be conduits to an unimaginably beautiful apocalypse referencing living forms in a dead material of organic origin.
The primary approach is an atomic accretion of simple units to build complex partially self-organized structures. As maker, my role is to set initial parameters that are subsequently altered during the working process. I think of clay as a fluid stone, which is transformed after firing into a fossil of its plastic self. Symmetry plays an important part as an underlying organizing principle. I work with the tension between durability and fragility working at the extremes of what is possible and practical while using video, sound, and light to extend the spectrum of engagement with the forms. My intention in introducing such a high degree of surface texture, structure, and intricacy is to draw in the observer to engage in imaginative examination.
The sculptures already have their history as objects of wonder, fascination, and contemplation suggesting, among other things, fantastic artificial fossils, ivory carvings, and ritualistic objects. They are an explicit invitation to speculate on intent and purpose beyond the sculptures themselves.
[ngg_images source="galleries" container_ids="14″ display_type="photocrati-nextgen_pro_masonry" size="180″ padding="10″ display_type_view="default" ngg_triggers_display="always" captions_enabled="0″ captions_display_sharing="1″ captions_display_title="1″ captions_display_description="1″ captions_animation="slideup" order_by="sortorder" order_direction="ASC" returns="included" maximum_entity_count="500″]