generate, gestate, grow #1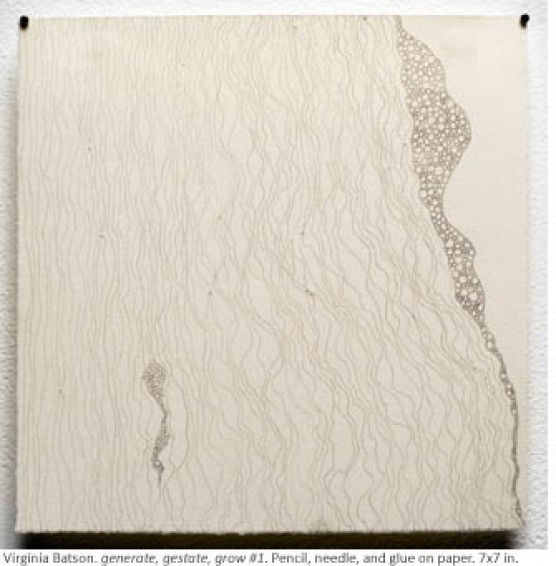 These drawings were a part of my first exhibition since my son was born in 2006. After having deeply immersed myself in the extraordinary—and completely ordinary—processes of pregnancy, natural birth, breastfeeding, and conscious parenting, I've never felt so intricately enmeshed in the procreant fabric of the world. I began this series of small drawings during my pregnancy to explore images of reproduction, gestation, and cellular growth within the confines of a restrained palette: pencil, needle, glue, paper. I work directly from the body, harnessing the authenticity of improvisation and the strength of a conceptual foundation—in this case a materials-based score harkening back to John Cage.
The natural processes of growth and evolution continually inspire me in the studio. I am intent on discovering the inherent nature and potential of my (often unusual) materials through sensory-based research and experimentation. (My sculptural materials have included my own hair and nails, glue as a proxy for skin, salt, sugar, acorns, and even the zoogleal mats used to ferment kombucha tea.) My art-making process seeks to approximate the beauty – both random and patterned – created by cellular growth. Working like a mad scientist in my own lab, I explore substances less for their virtuosic technical possibilities than for their evocative and metaphorical power.
My body of work includes works on paper, sculpture and installation; my focus on process and the body's generative capabilities is at the core of my work. I bring a deep physical consciousness to my work that is the result of many years of dance, yoga, and sensory awareness training. I seek to define a space where human existence, especially the human body and its biological and artistic capacity to create, is no longer separated from the rest of the natural world.
In The End of the Art World, Robert C. Morgan writes that the challenge in approaching art is "how to slow down and regain consciousness." I want to slow you down, to awaken in you a fully present human awareness. As Morgan writes, "beauty may be what one discovers by paying close attention."
Default Gallery Type Template
This is the default gallery type template, located in:
/data/user7/2021/244/36502/wordpress/.bbb76e9a4544bee1aa6254f7f6319f3f/wp-content/plugins/nextgen-gallery/products/photocrati_nextgen/modules/nextgen_gallery_display/templates/index.php.
If you're seeing this, it's because the gallery type you selected has not provided a template of it's own.